"I think we are 50,000 architects [in the Philippines], why me?" The architect was all smiles when he asked, humbly honored in spite of decades of media exposure. The Pinoy Builders team sat down with the architect for humanity to talk about building beyond disaster resiliency.
From architecture to urban planning
When asked how his journey from being an architect to an urban planner came to be, he recalled his secondary education in a seminary in Quezon City. At that time, his interest in architecture books grew, leading him to take up a bachelor's degree in Architecture from the University of Santo Tomas. Years later, he received a scholarship grant from the United Nations Development Program (UNDP) to study Environment Planning at University of the Philippines Diliman. Even at a young age, Arch. Palafox showed much interest in urban planning. "I remember when I was a little child, my friends and even my siblings on the beach, they would do sandcastles. I would do townships; cities, bridges, and mountains. In college, my classmates did their thesis, isang (1) building lang, samantalang ako, a complex of several buildings", he said.
Challenges in making disaster-resilient infrastructure
In December 1976, Sultan Khalifa invited him to help plan and design the city of Dubai. He few there after finishing his contracts in the Philippines, becoming the first Southeast Asian architect in the city.
Comparing the architectural code of Dubai to that of the Philippines, he shared, "bawal ang pangit na building sa Dubai. A contractor can put up a building without an architect, and an engineer can put up a building without the aesthetics [in the Philippines]. That's why the media keeps coming back to me every time there's a disaster. We told the government, if you don't follow our recommendations from the Metro Manila Transport Development Planning Project, we will have catastrophic traffic and flooding, lack of decent housing, garbage problem, and water supply problem. We said that in 1976. It's all happening now."
He added, "by 2050, the country will need 100 new cities, otherwise the existing cities will be as bad or worse than Metro Manila. I was able to help 40 countries. 39 countries listened to me, our country is the most challenging."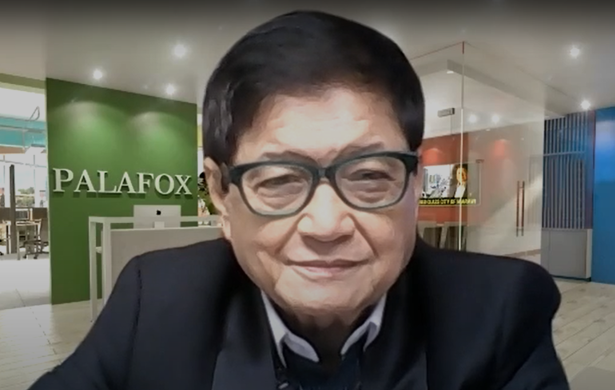 Arch. Felino "Jun" Palafox in a Zoom interview for Pinoy Builders last June 27
Improving urban development in Metro Manila
Despite the slow implementation of disaster resilience and urban development projects in Metro Manila, Arch. Palafox said that "it can still be done."
Aside from updating obsolete or Jurassic laws on architecture, engineering and construction, there should be continuity in the implementation of disaster resilience and urban planning projects in the country.
At present, many construction projects that were not carried out in the past forty years are now being implemented during President Duterte's 'Build, Build, Build' program. Arch. Palafox hopes that the next administration will continue the said program, as the country's construction industry is catching up just now from the unbuilt infrastructures since the 1970s.
Century of cities
"Comparing Metro Manila to the human body, the central business districts are the hearts of the city. The arteries are the roads and water waste. The parks and open spaces are the lungs of the city. So, Metro Manila needs a heart transplant and a lung transfer," he kidded.
On a more serious note, Arch. Palafox shared one of his learnings from his professor in Harvard—that this century will be a re-century: re-imagine, re-design, re-plan, re-architecture, reuse, recycle, reduce, reboot, remove, re-think, and re-develop. He added, "I've been thinking about it during this pandemic, that hopefully we will have an urban renaissance. I was also told by my professor, this century will also be a century of cities."
Recommendations for contractors and homeowners who want green and disaster-resilient communities
With everyone at home in the continuing battle against COVID-19, there was a sudden interest in building and designing homes among the population. The veteran architect cited how most developers think first of the cost that constructing disaster-resilient and green infrastructures will entail. He advocates that contractors and homeowners spend a little more on good architecture, good engineering, good construction, and green-building materials.
"They should think in the long term," he said. "It is 90 percent less expensive to address the hazard before it becomes a disaster". Moreover, they will not be contributing to the uglification of our cities and will be saving human lives during natural and/or man-made calamities. A former seminarian, he always reminds his colleagues of this 'pro deo patria et terra'. "Everything that we do is for God, country, and planet earth".
Builder of the Month is our periodical feature of inspiring fresh faces in the construction industry. Do you have a worthy Featured Builder in mind? Send us your recommendations at pinoybuilders2019@gmail.com.
*This interview has been edited for brevity.