Since the Enhanced Community Quarantine (ECQ) was implemented, every industry affected has been figuring out how to safely restart their business operations. The construction sector itself has struggled in the first weeks of the pandemic due to the nature of its work. It relies on teamwork and physical labor, making it one of the many businesses hit hard by the pandemic.
Only essential construction projects are allowed to be worked on at present. Once the ECQ is lifted, work will resume in all affected sectors, albeit with strict precautions in place. Workers are encouraged to practice social distancing, especially in jobs requiring constant physical interaction. Regular hygiene is also recommended through the use of face masks and hand-cleaning commodities, such as soap and gel alcohol. In the field of construction, implementation of these precautions will be extremely vital in ensuring a healthy working environment.
Holcim Philippines recently released a guide on the creation of DIY Hand Sanitizing Stations, which would greatly benefit construction sites everywhere. The design itself is simple, as with the materials and creation process. The overall cost of creating a single sanitizing station, including labor costs, would amount to about more or less P6,870.
[content-lock]
You can read the entire guide by clicking on this link.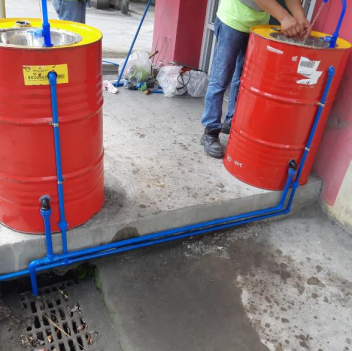 The station, all set up.
Safety is always the top priority in the construction industry. This is why preventive measures are being thought out to reduce risks and ensure worker safety. Once these are in place, construction projects greatly affected by the COVID-19 outbreak may resume and start to recover.